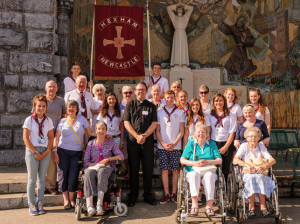 The Hexham and Newcastle Diocesan Pilgrimage aims to go to Lourdes every year.
We always aim to travel by air from Newcastle Airport to Lourdes on the last Friday of July, returning to the North East one week later on the following Friday.
The Jumbulance always leaves the Diocese on the Thursday before the last Friday of the month of July; it leaves Lourdes on the following Friday when the flights depart, but actually returns to the diocese on the Saturday morning.
The Youth Coaches also leave on the Thursday morning, before the Friday flights; leaving Lourdes the following Friday and getting back to the North East on the Saturday morning.
As we are unable to travel on Pilgrimage as a Diocesan Family at this time, we are unable to provide dates of future pilgrimages.
This will be updated once travel is permitted again. Thank you for your understanding.