All our nurses who travel with us on pilgrimage every year are volunteers. We do not employ them to come with us. This means that we rely entirely on the very generous offer of help from nurses who agree to travel with us.
We take approximately 40 pilgrims who need care and assistance during the week in Lourdes, and so to offer the proper care necessary, we aim to have 18-20 nurses every year.
All our nurses must have their Nurses Registration still fully up to date, and they are usually all still in full employment as practising nurses.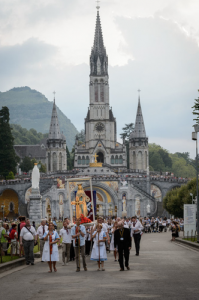 Our nurses come from a range of experiences – practice nurses in GP surgeries, health visitors and district nurses, ward staff in our local hospitals, nurses working in surgical theatres in our hospitals, nurses working in nursing and care homes. Whatever their field of work, all must still have a valid and up to date nurse registration PIN that can be checked out by our senior nurse.
In Lourdes the nurses are fully responsible for the day to day care and medication of our sick and assisted pilgrims who stay in the Accueil Marie St Frai.
All our nurses work very closely with the doctors on our pilgrimage and are assisted in the care of our pilgrims by our many adult and youth helpers.
Every year we make an appeal for nurses to come with us to Lourdes, because without the nurses' presence and work on pilgrimage we are unable to take our sick pilgrims with us, or if we do not get enough nurses we have to take a reduced number of sick pilgrims.
If you are a nurse, who fits the criteria needed to join us on pilgrimage, we would love you to come with us. We are always looking for new nurses to come with us … it is good to have new people with us each year, because they bring new insight to the work we do.
If you feel interested to come on the pilgrimage and work as a nurse, please contact the Pilgrimage Director who will then pass on your contact details to the senior nurse, or email lourdes@rcdhn.org.uk and your information will be forwarded to the senior nurse who will contact you.