There are many places that you can read about the history of the town of Lourdes and the chronicles of everything that happened there over the centuries. Probably the best place to look is the website of the Sanctuary of Our Lady of Lourdes http://en.lourdes-france.org/deepen
Lourdes: A Place of Pilgrimage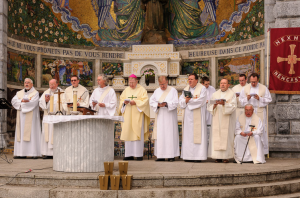 Since the Apparitions of Our Lady to Bernadette in 1858, since the day that people realised that something special was happening in Lourdes, people have travelled in their hundreds and thousands each week to be in Lourdes for a pilgrimage. Some come to Lourdes for a miracle, some come for a cure, some come for healing; many come as part of their own spiritual journey, their journey in faith, to come closer to the Lord Jesus, to unite themselves with our Blessed Lady and to stand in the spot where Bernadette stood when Our Lady appeared to here.
The first pilgrims gathered in Lourdes within a couple of weeks of that first apparition in 1858, with the first organised pilgrimage taking place in 1862 and since then numbers have grown and grown, with Lourdes now known as an international as well as a French shrine.
In 1957, Pope Pus XII wrote an encyclical called "A Pilgrimage to Lourdes" and this link will take you straight to it http://en.lourdes-france.org/deepen/fundamental-texts/the-1957-encyclical Today more than 6 million people visit Lourdes every year.
The Message of Lourdes
The "Message of Lourdes" is contained in the words spoken to Bernadette by Our Lady during the Apparitions …. The full account of the 18 apparitions from 11th February to 16th July 1858 can be found here …
http://en.lourdes-france.org/deepen/message-lourdes
"I do not promise to make you happy in this world but in the other. Would you be kind enough to come here for a fortnight?"
"She told me to go, drink of the spring (….) I only found a little muddy water. At the fourth attempt I was able to drink. She also made me eat the bitter herbs that were found near the spring, and then the vision left and went away." In front of the crowd that was asking "Do you think that she is mad doing things like that?" she replied; "It is for sinners."
"Go, tell the priests to come here in procession and to build a chapel here."
Saint Bernadette Soubirous
This link http://en.lourdes-france.org/deepen/bernadette-soubirous to the website of the Sanctuary of Our Lady of Lourdes will give you all the information you need to know about St Bernadette, her early years, family life, time during the Apparitions and entering Religious Life.
History of the Diocesan Pilgrimage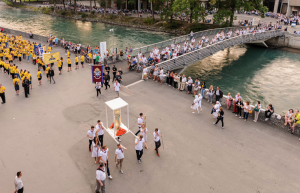 One of the difficulties we have is trying to find out our own diocesan pilgrimage history. There have been pilgrimages to Lourdes for many years, but we don't have a full chronological breakdown of the pilgrimages to Lourdes from our diocese. What we want to do is try and create a full history of our diocesan Pilgrimages to Lourdes. We don't want books or badges, just dates and proof of when you know the Hexham and Newcastle Pilgrimage travelled to Lourdes. It will be particularly interesting to know what happened during the War and at the beginning of the 20th century.
If you can help with any information about this, please email the pilgrimage office via the form on our 'Contact Us' page with any information you consider useful.
Miracles of Lourdes
There have been 69 officially recognised miracles in Lourdes, where people have been physically cured of an illness or disease. Rather than write each one here, once again the Lourdes website gives this information in great detail … http://en.lourdes-france.org/deepen/cures-and-miracles/recognition-of-a-miracle