Our Pilgrimage to Lourdes relies very heavily on the generosity of many people who offer their services to work on the pilgrimage. All of our helpers, whether professional or not, are volunteers.
While we have to ensure that we have a full medical team of nurses and doctors on our pilgrimage, it is equally important for us to have a team of adult helpers to assist with the ordinary day to day care and assistance that is needed in taking a pilgrimage to Lourdes.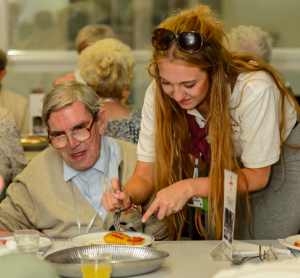 We need adult helpers from the very beginning of our journey to Lourdes, which for us begins at Newcastle Airport. Once our sick pilgrims are dropped off at the airport, we take charge to make sure that they have a great experience of a pilgrimage to Lourdes. And so it is so important for us to have a team of helpers who are with us to take responsibility for our pilgrims from check-in through security right through to the Boarding Gate. Friendly faces and reassuring voices make the journey so much easier for pilgrims who might be anxious about getting to Lourdes.
Assistance on board the aeroplane is so important: sitting next to our sick and assisted pilgrims, chatting to them, helping them with their tea and coffee and refreshments, assisting in getting to the toilet are all important tasks that we do on-board the flight, in cooperation with the team of nurses and we need people to do this.
In Lourdes, there is so much that we need to think about and that our adult helpers do – work in the Accueil is varied but there is lots to do and we need your help – our sick pilgrims need to be kept in a clean environment, so we need people wiling able to sweep and clean the ward, the pilgrims rooms and the toilets; we need people able to support out pilgrims in the dining room at meal times and to help feed some of our less able-bodied pilgrims; we need people in our little ward kitchen to make sure that tea and coffee and general hospitality are offered to our pilgrims, our helpers and the visitors who come to the Accueil to see what we do.
And when we go out to Masses and Services and other visits while in Lourdes, we need pushers for our wheelchairs and we need people who are going to make sure that our sick and disabled pilgrims have a good time, taking them also to the shops, the bars and the cafes.
If you feel that you would like to offer yourself for this work whilst in Lourdes, we would be so willing to accept your offer of help. We have a great number of young people every year, but we especially need the help of adult pilgrims as well, with their knowledge and wealth of experience from their ordinary, daily way of life.
If you feel you could help us in this way or want more information, please do not hesitate to contact us. You can speak to Fr Stephen Watson, the Pilgrimage Director at any time; or you can email in and then we will pass on your email address to our President of Hospitalité who is responsible for the care of all our helpers both at home and whilst on Lourdes.
Email lourdes@rcdhn.org.uk